ALL ENQUIRIES CONTACT:
Debbie Jackson 07815 861251
jack.deb@tiscali.co.uk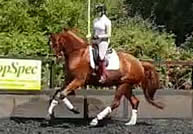 Divinity is stunning 17hh, 5 year old, gelding who will be someone's horse of a lifetime.
Not only does he possess all the attributes needed for a top competition horse, his temperament is also outstanding, 1 in a million. This beautiful boy has the most charming and gentle of personalities whilst ticking all of the boxes in terms of movement, conformation and quality.
He has 3 super gaits; he will walk for a 10; has a super elevated, expressive trot and huge, ground covering canter.
He is super safe and unflappable, never having put a foot wrong. He is extremely sensible and straight forward to train as well as to hack which he does regularly including hacking right next to a busy school during the home time chaos; flapping, shrieking and traffic! He is totally calm and level-headed in the field, perfect to handle, with a loving and cuddly personality.
He is co-owned us and professional rider Daisy Jackson who has produced him from backing and spared no expense on his development. He has been fed on the best, feet and teeth kept in perfect order. None of his education has been rushed – he has been taken slowly and NOT overproduced and this is reflected in his sensible attitude and trusting nature. Good to shoe, load, clip vet etc. Nothing fazes him.
Can be viewed Dorset UK £27,000
ALL ENQUIRIES CONTACT:
Debbie Jackson 07815 861251
jack.deb@tiscali.co.uk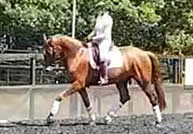 Larkshill Karisma &
Larkshill Devotion
Leanne purchased both of these lovely 3 year olds as foals but due to a change of circumstances they are both offered for sale. Both are recently back from stud and are looking for a new life in the dressage arena. Both are good with the farrier. Worming and jabs up to date.
Substantial price required for each. Based near Reading.
ALL ENQUIRIES CONTACT:
Leanne Sikorski
leannesikorski@yahoo.co.uk

Larkshill Karisma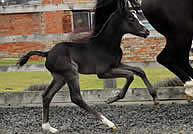 3 year old unbacked and un spoilt mare for sale Galaxy Win T x Discovery x Don Schufro
Larkshill Karisma is a gorgeous black mare and a real beauty with the most exquisite head, superb conformation, powerful elevated paces and an excellent hind leg.
Karisma has exceptional breeding as ALL the mares in her immediate pedigree are "Elite" many of whom also have the Preferent and Prestatie predicate too. This mare is top class.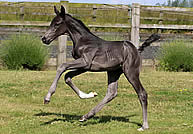 3 year old unbacked and un spoilt colt for sale full brother to Licensed stallion & Badminton Young Horse Champion Larkshill Debonair & Elite & Premium Larkshill Supremacy - De Niro x Show Star x Potsdam
Devotion is charming, charismatic with presence and tremendous uphill tendency. A beautiful type with an exceptional neck and conformation. He has swing, elasticity, and a wonderful hind leg. This colt boasts outstanding genetics, along with movie star looks, complimented by exceptional movement